Brown Mauzo Dedicates New Album To Vera And Daughter Asia
Kenyan musician Brown Mauzo has released a new album and dedicated it to his wife Vera Sidika and their daughter Asia Brown.
Taking to social media, Mauzo said that the album titled 'V' is a special dedication to his young family and most especially Vera for being by his side since day one.
"Dear my wife @queenveebosset , this is an album that I recorded and dedicated it to you and our daughter @princess_asiabrown .
"You have been instrumental in my life since day one and I wanted to award you with something timeless…. These are my thoughts about our relationship. The album is titled "V" ( Vera )," he wrote.
The album has 12 songs and features a number of artistes including Masauti, Mwasi, Ndovu Kuu, Baraka Da Prince and Kaa la Moto.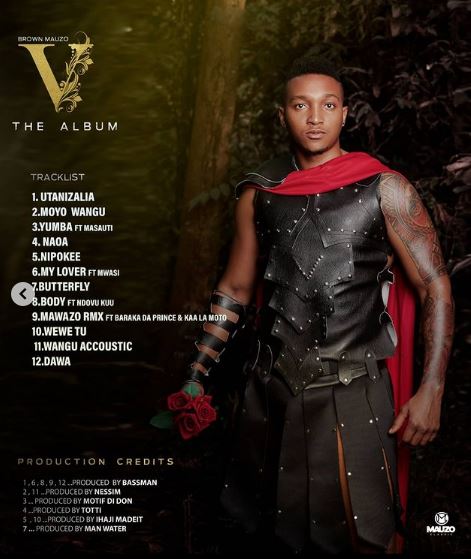 In the comments section, Vera gushed over the thoughtful gesture, declaring her love for the Natamani hitmaker.
"Awww this is one big surprise my love. Wow gosh…the way I've been so busy breastfeeding @princess_asiabrown…we love you," wrote Vera.
The celebrity couple welcomed their bundle of joy, Asia Brown, on Mashujaa Day.
Vera revealed to her followers that their daughter was born at 10.21am and she could not hide her joy as she began her motherhood journey.
"20.10.2021 at 10:21am…A princess was born Asia Brown…You will always be the miracle that makes our life complete," wrote Vera.
The businesswoman further said she chose to give birth on October 20, 2021, a public holiday, to allow her daughter celebrate her birthday with family.
"Since elective CS allows you to select a date within a particular timeframe, I personally chose the date 20th October 2021 so she can be celebrating her birthdays from home with family since it's a public holiday, Mashujaa day and phewx! Curfew got lifted a few hours right after she was born. Such a blessing," she said.
Just last month, Vera said she would deliver her baby in Kenya and not abroad as had been planned.
She disclosed that were it not for Coronavirus, she would have travelled to USA for the delivery since her visa is still active.
Massive Reactions From Celebs And Fans As Diana Marua Launches Music Career As A Rapper
After numerous posts about a big announcement by singer Bahati, it's official that his wife, YouTuber Diana Marua, is the latest female rapper in town.
The unexpected revelation came to light at the TradeMark hotel, Nairobi, on Sunday evening, where the new rapper, going by her stage name 'Diana B', performed her first song Hatutaachana.
The event was attended by a couple of celebrities including comedian Eric Omondi, singer Ringtone, YouTuber the WaJesus family, among others.
In videos shared on her Instagram, Diana, dressed in a sexy three-piece silver outfit paired with black and silver boots and stockings, made her debut as a rapper and entertained the crowd that cheered her on.
"Who Starts their Music Career at the Top. Like I Just Did??? Glory to God. Cameras <> Lights <> Action!!! and I Surprised the Audience. Tomorrow at 10 am I Premier My First Official Music Video On My YouTube Channel Subscribe. DROP ONE WORD FOR #DIANA_B AS I START MY MUSICAL JOURNEY," Diana captioned one of the videos.
View this post on Instagram
While introducing his wife to the music industry, Bahati posted a video of her performance and captioned, "I present to you Kenya's no.1 female rapper."
On Monday morning, Diana released the official video for her new song on YouTube and has so far garnered 27,900 views in two hours.
Diana's debut as a rapper seems to have elicited mixed reactions from fans and fellow celebrities who took to the comment section and shared their views.
Singer Akothee said, "Congratulations Sanaa all women pray to have a supportive husband like you be blessed Sanaa."
YouTuber Mill WaJesus commented, "Congratulations and all the best in your new journey. You nailed it."
One of her fans by the name Ndinda Cynthia said, "Eeeish am proud of you. you have been my role model and you will forever be am even lacking words right now but to be honest you deserve everything good that is happening to you to more wins. I love you."
Another fan, Jaber Malkia said, "Congratulations darling. I love your spirit, continue working hard I love you so much and I'll always be your number one fun."
Other fans even went ahead and compared her to rappers Cardi B and Nicki Minaj.
Some were, however, not impressed with Diana's debut as a rapper.
It's All A Lie: Huddah Takes A Shot At Davido Donation Claim
Popular Kenyan Socialite Huddah Monroe has taken a swipe at Nigerian rockstar, Davido after the latter announced he will donate over N250million to orphanages across Nigeria.
Huddah Monroe has criticised the recent donations declared by Nigerian singer Davido.
She took to social media to say that some celebrities do these things for clout.
According to the socialite, she said some of the donations reported by celebrities are lies orchestrated to push their brand visibility.
Sharing a screenshot of Davido's recent donation, the founder and CEO of Huddah Cosmetics claimed it was a lie, saying that Davido does not intend to donate the money he collected during his birthday drive.
"Big cap but okay," Huddah wrote.
Huddah said evidence must be produced after celebrities donate large amounts of cash, otherwise, it could easily be dismissed as a PR stunt.
"We are yet to see the saved children or schools built, or shelters, maybe there is. I just haven't heard coz $14 million is not small change," she added.
Justifying her claims, Huddah admitted that folks lie but challenged celebrities to a minimum of do the bare minimum, then shout about it rather than promising to try and do it and so vanish through nullity.
"Donations are a way to just lie. We all lie but just do the bare minimum, show us then talk," Huddah wrote.
Her bold statement around donations came when Davido revealed that he had donated the cash given by his fans to orphanages in Nigeria.
Through social media, the award-winning singer revealed that he had raised over NGN 250 million (Sh68 million) through the drive that lasted just over two days.
He said he is passionate about giving back to society, and that he received Sh54 million from friends. Davido pledged to top it up with around Sh14 million and selected a team to oversee the distribution of the funds.
"The committee will compile a list of orphanages across Nigeria. They will determine the number of children and their needs at each orphanage and then divide the funds accordingly.
To maintain transparency, the committee will make public names of the beneficiary orphanages and how much each will receive," wrote Davido.