Diamond's Baby Mama's Tanasha And Mobetto Meet Up
It's not every day when we get to see two 'baby-mamas' with the same father to their children getting along well and even becoming the best of friends.
But the ex flames of Bongo Superstar Naseeb Abdul alias Diamond Platnumz are making an exception to the rule, showing each other love both online and in person.
Yesterday, Kenyan singer and the mother of Platnumz' young son Tanasha Donna met up with Hamisa Mobetto, who also shares a son with the famous singer.
Donna and Diamond's son Naseeb Junior just turned two years old, while Mobetto's son with the star, Dylan is four years old.
The two ladies took to their social media accounts to chronicle their meet up, where they seemed to be fond of each other and in good spirits.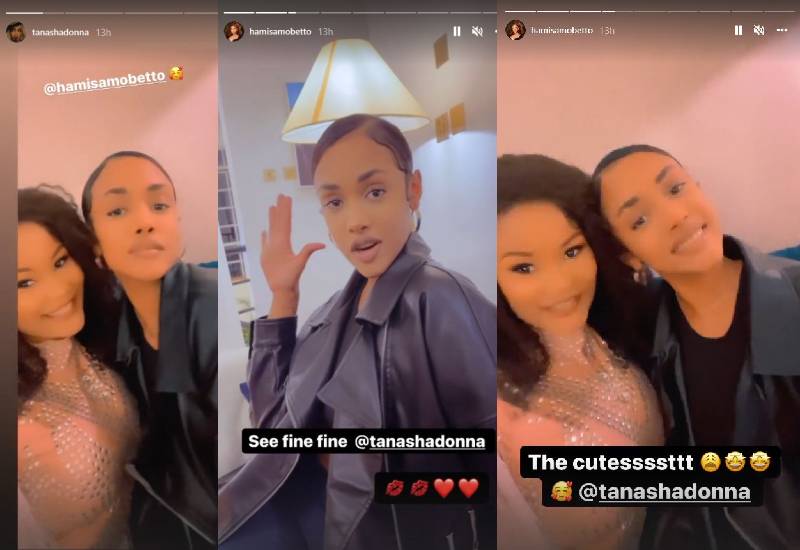 Both uploaded brief, playful clips onto their Instagram stories, tagging and complimenting each other while at it.
"See fine fine Tanasha Donna," Mobetto wrote alongside a video of Tanasha smiling and waving at the camera.
"The cutest," she added, before proceeding to document the rest of her evening, which included an outing at a Nairobi club in which she made a celebrity hosting appearance.
Donna and Mobetto have shown that they are in good terms before, with the two sending each other warm wishes on Mother's Day and on both their birthdays last year.
Mobetto also styled Donna for the music video for Liar, in which she featured singer Masauti.
Jacque Maribe Gushes Over Son In Heartfelt Post
Jacque Maribe was extremely excited as her son turned a year older yesterday. In a post on social media, the media personality disclosed that her life took a forever turn eight years ago.
The mother of one described the journey as one that is full of God's favor looking back.
Maribe said the day she held her baby for the first time, it gave her a sense of purpose and meaning, a feeling she has loved every single second since then.
"8 years ago today, my life as I knew it changed completely, for the better. A new title, I found true love, I found purpose and meaning. I became a mum, forthwith, mama Zahari. And I have loved every minute of this journey," she wrote.
Reminiscing the day she named her son Zahari, Maribe further revealed that her son's name means 'God has remembered,' adding that she is proud to have picked that particular name for her son as it has been of significance to both of them.
"Zahari – meaning God has Remembered. I couldn't have picked a better name for you, my son. And through our journey, God has faithfully remembered," she added.
Maribe confessed that she has develop an endless love for her son, and nothing could ever come between them.
"I love you more than all the words in all the books in the whole wide world. Happy 8th birthday, King Zee!!" she said.
View this post on Instagram
Late last year, the single mother disclosed to the public that Eric Omondi was the baby addy of her son.
But then, in a twist of events, Eric publicly said that he had been demanding a DNA paternity test for almost seven years to affirm that he was indeed the child's father.
"For seven years I have begged Jacque to allow us have a DNA Test and she has continually refused!!! I don't mind supporting the child but if you want me to be fully present and supportive, if you want me to be a father. Then we have to do the right thing," he wrote.
The media personality and Eric came back together and announced that they had settled their differences and have decided to raise their child together peacefully.
"Life…it has its ups and downs but with communication, tolerance, understanding and true friends like @kabusimon, @ericomondi and I can now move forward. Thanks Fam," Maribe wrote.
Risper Faith Hints At Another Cosmetic Procedure To Lose Weight
Risper Faith, socialite now businesswoman has revealed plans to undergo yet another cosmetic surgery to lose weight and get her pre-baby body back.
The mother of one happily expressed her passion to undergo a Mini Gastric Bypass while sharing the idea with her fans on social media.
MGB is a short, reversible laparoscopic gastric bypass weight loss surgery.
"When I do my mini gastric bypass it's over for you bit*****es," she wrote.
View this post on Instagram
This comes hardly two months after undergoing another procedure to get rid of her soft skin tags-noncancerous growths forming within the skin folds of the neck, armpits, breasts, groin area, and eyelids through a process known as Cauterization.
Risper disclosed that she desired to make the most out of her 30s, and scrapping off  the tags was one of the ways she decided to do it as the socialite shared her experience via social media.
"Sooooo today I decided to remove skin tag from my body. 30s itaki makasiriko. @beautyquestspa am more than happy. This removal uses an electrocautery tool that heats a needle until it can burn through the stalk of the tag. The heat from the needle closes the wound so there is very little bleeding and often none when a skin tag is removed using this method," she wrote.
In November 2020, Risper Faith first ventured into cosmetic surgery when she underwent liposuction.
According to the former Nairobi Diaries actress, her postpartum body affected her mental health and lowered her self-esteem.
"After giving birth I weighed myself and I was 100kgs over 22months after I had given birth I'm weighing around 116kgs and my body just keeps growing and growing, I don't feel beautiful anymore, I don't feel myself anymore. I have been so down, I'm so moody lately," she said.