Juliani Denies Being Appointed By Azimio
Musician Julius Owino popularly known as Juliani has debunked rumours that he had been chosen as the Director of Entertainment for the Azimio la Umoja-One Kenya coalition.
Rumours of Juliani's political appointment was all over social media on Monday, May 9, few hours after Machakos Governor Alfred Mutua dissolved the Azimio coalition for the Kenya Kwanza Alliance.
According to a press statement, Juliani hasn't received any formal communication regarding the appointment.
"It has been brought to my attention that there is information circulating online about my appointment as Director of Entertainment in the Azimio – OKA Coalition," Juliani's statement read in part.
Then went on, "I would like to clarify that this has not been communicated to me formally or otherwise. Therefore, I would like to confirm that I am not employed or affiliated with any political party in Kenya or beyond."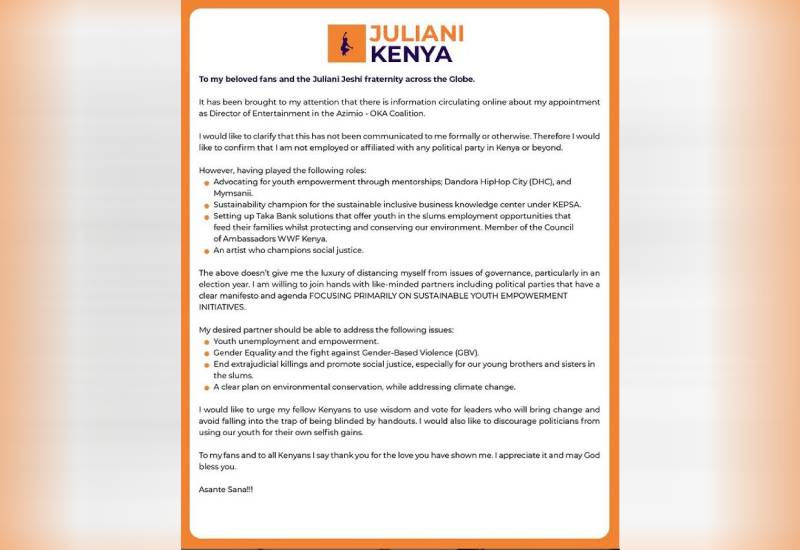 Despite disassociating himself from the rumours, he has not ruled out the opportunity of working in a political field.
He says he can work with politicians only if they have an agenda that 'primarily focuses on sustainable youth empowerment initiatives'.
"My desired partner should be able to address the following issues: Youth unemployment and empowerment, Gender Equality and the fight against Gender-Based Violence (GBV) and end extrajudicial killings and promote social justice," he added.
Nameless And Wahu Expecting Baby Number Three
The M'z are expanding their family and we are here for it. Nameless and his wife Wahu have announced that they are expecting their third child together.
Making the announcement via Wahu's Instagram page, the singer shared a short video after having put up a series of posts saying that she had a special announcement to make.
"I'm about to make a special announcement… I'm excited, overjoyed, humbled, yet anxious about it," she said.
Adding a caption to the video, the singer said that she was humbled and at the same time happy.
"Deep by The M'Z – link in bio! Overjoyed, humbled, grateful, M-let loading", read the caption.
The announcement was well received by their fans and followers who wished them nothing but happiness for their bundle of joy.
officialjanetmbugua:  Giiirrrlll! Congratulations to you, @namelesskenya and your beautiful girls! Love this reveal.
The singer in a past interview had said that she was done giving birth and was satisfied with her two adorable daughters.
"I am okay. My last born Nyakio is almost turning seven years and I am enjoying the fact she is doing most of the things by herself. She baths herself, she feeds herself and all that", she said.
"When I visit my friends with small babies and see how they struggle with them, I am like, I do not want to do this again. They are cute and babies are gorgeous, but I do not want to go through all that again," she said", she concluded.
At the same time, Nameless mentioned that he would not mind getting a boy as he already has two daughters.
Terence Apologises For Video Where He Was Eating Behind The Wheel
Terence Creative , comedian and content creator has rendered an unqualified apology for a viral video where he was seen eating while driving.
In the viral video, that has since been deleted, the popular comedian was seen holding a plate of food in his left hand as he jammed to 'Usiniseme' by Ali Kiba.
His followers who were not pleased with his actions criticized him and advised that he parks the car at the roadside, eat before continuing his journey.
Most of the netizens also told him he was jeopardizing the lives of those inside the car, they described his driving as reckless behavior.
Following the backlash from netizens, Terence quickly deleted the video and apologized for his actions.
He also promised to be an agent of safe driving.
"Following my previous post that I had shared of me EATING & DRIVING, I wish to ask for your apology and ask you not to emulate this behavior as it may put you to danger and risk the life of the people on board.
"My apologies for that and keep safe…I promise to be an ambassador and advocate of safe driving as indicated by the laws of Kenya and those of NTSA," he wrote in part.
The father of three also clarified that there were no minors on board when the video was recorded and no one was harmed.
"I wish to clarify no minors were on board during this shooting [sic]…we were in a snarl-up driving at 30kpm, however, this doesn't justify my act. Once again I apologise for that stunt," he wrote.