Suspect In Athlete Agnes Tirop's Killing Detained For 20 Days
The suspect behind the killing of athlete Agnes Tirop, Ibrahim Rotich, has been arraigned in an Iten Court and will be detained for 20 days.
Ibrahim Rotich appeared before Iten Law Courts senior principal magistrate Charles Kutwa today morning.
State prosecutor Judith Ayuma sought an order for the suspect to be detained for 20 days, which was granted.
Kutwa ordered that the suspect be detained at the Eldoret Police Station.
He also directed that the suspect undergo a mental assessment at the Moi Teaching and Referral Hospital (MTRH) within the 20-day period.
The case will be mentioned in court on November 9.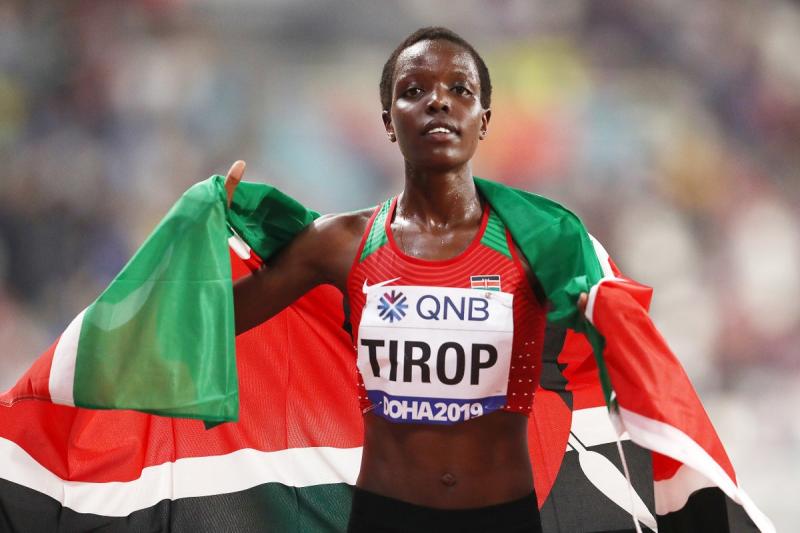 Rotich was arrested at a police roadblock at Chaani in Changamwe, about six kilometres from Mombasa, on Friday.
Police became suspicious after they flagged down the suspect's car for a 'normal inspection' but he refused to stop.
Tirop, 25, was part of the triumphant Team Kenya in the recently concluded Tokyo Olympics.
The athlete, described as 'a star in the making', had featured in the 5,000-metre race and finished fourth.
2022 World 7s: Kenya Sevens To Face USA In Dubai 7s Opener At 9am
Kenya Sevens are going to be hoping to come out in the 2022 World 7s Series season on a high note as they play USA at the Dubai Sevens on Friday from 9am East African time.
The World Sevens Series will commence with 12 teams set to require part within the Dubai opening leg tournament slated for Sevens Stadium.
Core sides New Zealand, Samoa are still missing while England, Wales, and Scotland will play the primary two tournaments as Great Britain. Fiji, Australia, and France are back after missing the shortened 2021 Series.
After facing USA within the morning, Shujaa will then face Argentina at 1:30 PM and their final match are at 4:02 PM against Spain as they seek to duplicate the 2021 performance that saw them achieve a podium finish within the shortened series.
The team finished third overall within the abridged 2021 Sevens playoff in Canada, reaching the final where they lost to African nation before securing a 3rd place finish at the second leg in Edmonton.
Olympic Gold Medalist Fiji return after missing the 2021 World 7s Series and are pooled alongside returning Australia, Canada and France.
The final Pool has 2021 Series Champions Republic of South Africa who will tackle Ireland, Great Britain and Japan, who were promoted as HSBC World Rugby Challenger Series champions in 2020.
Great Britain will participate within the opening two rounds of the Series in Dubai, as a part of the standing agreement to play the year 2021, before reverting to compete as national unions for the rest of the 2022 Series, with England, Scotland and Wales participating within the men's Series and England within the women's series.
The 16 men's core teams after the Dubai events are Argentina, Australia, Canada, England, Fiji, France, Ireland, Japan, Kenya, New Zealand, Samoa, Scotland, Republic of South Africa, Spain, USA and Wales.
The 11 core women's teams after the Dubai events are Australia, Brazil, Canada, England, Fiji, France, Ireland, New Zealand, Russia, Spain and USA.
Two men's and one women's teams are going to be relegated from the 2022 Series, to make sure a pathway for teams to be promoted from the HSBC World Rugby Sevens Challenger Series.
Dubai 7s Fixtures
Kenya vs USA-9am
Kenya vs Argentina-1.30pm
Kenya vs Spain-4pm
Kipchoge Among Five Finalists For 2021 Male World Athlete Of The Year
Marathon world record holder and two-time Olympic Champion Eliud Kipchoge is among five finalists for the 2021 Male World Athlete of the Year.
On Monday evening, World Athletics announced the five male athletes, who are representing five different countries.
Kipchoge was named Male Athlete of the Year for two years in a row; in 2018, after setting the 2:01:39 World Record and in 2019 when he entered into the annals of history as the only human being to run under two hours in a marathon at the INEOS 1:59 challenge in Vienna.
He timed 1:59:40.
According to World Athletics, the male and female World Athletes of the Year will be announced at the WA Awards 2021, which will take place virtually on December 1.
World Athletics also named 5000m Olympic champion and world record holder (in both 5000m and 10,000m) Joshua Cheptegei of Uganda.
Cheptegei also won 10,000m silver for his country at the Tokyo Olympics. He also recorded a world-leading 8:09.55 for two miles.
Pole vaulter Mondo Duplantis of Sweden who was named Male Athlete of 2020 has also been named as a 2021 finalist. He is an Olympic, Diamond League and European indoor pole vault champion.
"The five athletes, who represent five countries from three area associations, have produced some exceptional performances across a range of athletics disciplines in 2021, at the Tokyo Olympic Games, one-day meeting circuits and other events around the world," WA said in a statement.
Other finalists are US shot put athlete Ryan Crouser, also an Olympic champion, and Norwegian Karsten Warholm, who won 400m hurdles at the Tokyo Olympic Games.
"The World Athletics Council and the World Athletics Family cast their votes by email, while fans voted online via the World Athletics social media platforms.
"The World Athletics Council's vote counted for 50% of the result, while the World Athletics Family's votes and the public votes each counted for 25% of the final result. Voting closed on 6 November," WA said.